Just hours from now, you'll have the first trailer for Marvel's next television show. Late Sunday night, Jeremy Renner confirmed the trailer for Hawkeye would be released on Monday. The Avengers star even shared a snippet in a post to his Instagram story, teasing the show's Christmas-time storyline.
"Hawkeye trailer drops tomorrow!" Renner shared. He then posted a second image of himself with a bow and arrow.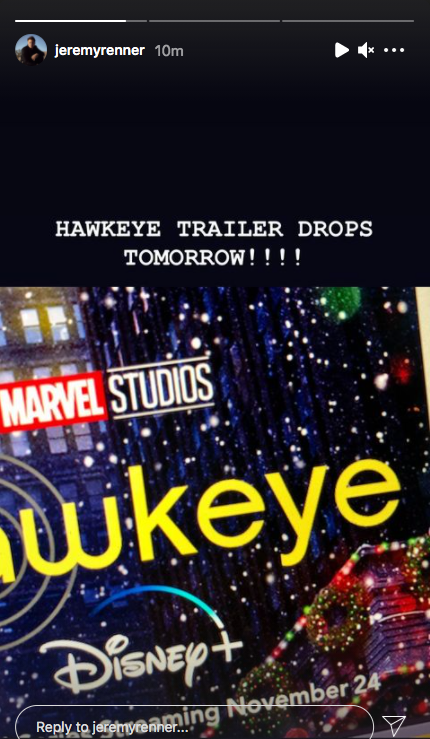 The trailer is all but guaranteed to focus heavily on both Clint Barton (Renner) and Kate Bishop (Hailee Steinfeld), with other appearances by Lucky the Pizza Dog, Echo (Alaqua Cox), and Clown (Fra Free) likely.
"The first time Jeremy and I sat down together, we were in a writers' room surrounded by a bunch of Hawkeye comics up on the wall, all around us," Steinfeld says in the October print issue of Entertainment Weekly. "I was like, 'Oh my God, this is real. This is happening.'"